09.30.15
Announcements
Arkin Tilt Architects to Make Plan Sets for Eight Straw Bale Homes Available for Free to Victims of California Wildfires
Bay Area based Arkin Tilt Architects (ATA) has designed dozens of structures that utilize straw bales for insulation in their walls; the plans for two have been available for purchase through the website www.strawbaleplans.com. In response to this summer's wildfires throughout California, ATA is offering the plans for these two homes, plus six others, to anyone who lost their home in the fires, for free. ATA has partnered with Kevin Donahue Structural Engineers—with whom they share office space—to provide a complete package of drawing and structural calculations to aid in the permitting process and ensure structural and seismic safety.
These modest home designs are fire resistant, featuring metal roofs, cement board siding on the non-bale walls, and plastered bale walls that achieve at least a 2-hour fire rating (most houses don't have even 1-hour rated walls). All of the home plans feature details that comply with the California Building Code for structures in the most extreme Wildland Urban Interface fire zones.
"Straw bale walls, when integrated with passive solar design create comfortable dwellings that require a minimal amount of added heating and cooling, due to high insulation levels and the thermal mass of the plaster finish." suggests David Arkin, AIA, a principal at ATA, who also serves as director of the California Straw Building Association (CASBA - www.strawbuilding.org). The straw bale walls help create comfortable dwellings that require a minimal amount of heating and cooling, compared to conventional homes. This is due to the high insulation levels of the bales and thermal mass effect of the plaster finish, and also the integrated passive solar design techniques that keep most of the hot summer sun out of the building while welcoming the low winter sun.
Through their partnership with www.strawbaleplans.com, anyone interested in these plans who has not lost a home in a California Wildfire may purchase them (architectural plans only—engineering is separate) through the website, with a portion of the proceeds going towards making the designs available to fire victims. "We think it is such a great idea what you guys are doing. We want to do what we can to support it," notes consultant and teacher Andrew Morrison of StrawBale.com
Anni Tilt, AIA adds, "The original owners of these projects have kindly agreed to make their plans available to others … we wanted to extend that generosity to those who suffered the tragedy of losing a home and most of their belongings in these horrific fires." Anyone interested in the details of the plans can contact the firm via info@arkintilt.com, or at 510-528-9830. Minor modifications can be made at an additional cost, or custom designs can be created through the firm's modest straw bale plans program, or through full architectural services.
For more information on building with straw bales, visit the CASBA FAQs:  http://www.strawbuilding.org/faqs  CASBA also keeps a list of experienced straw bale contractors and other professionals:  http://www.strawbuilding.org/find-a-professional
Below find pictures and descriptions of the eight designs that are currently available. For the first three homes, click on the image for more photos and information.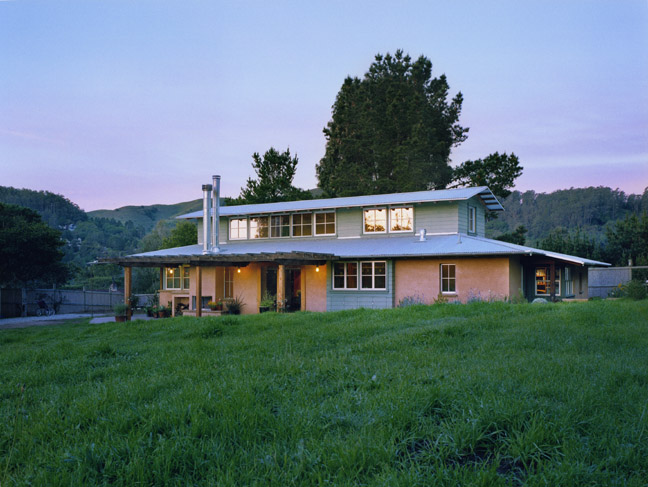 Natural Habitat - Originally built in Mill Valley, CA, this 1860sf, 4BR, 2BA home design has been built in many locations in California as well as several other states. This house sits best on a flat or nearly flat homesite.

Chalk Bluff Cabin - Also a popular design currently offered, this 872 sf cabin features a Structural Insulated Panel (SIP) roof structure and an integrated solar hot water and space heating system, storing heat in a 3' deep sand bed beneath the polished concrete floor slabs. It has a sleeping nook off the living room and another small loft over the kitchen. This cabin is designed to fit a site that has a moderate slope dropping from the north to the south.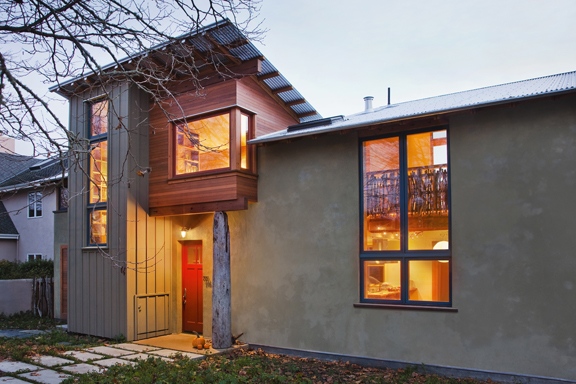 Santa Cruz Straw Bale - Fine Homebuilding's 2012 Best New Home of the Year, this design includes the option of turning a 2-car tandem garage into an accessory rental unit. It's L-shape was designed for a city lot that fronted the street and had a parkway to the west. This house will fit a flat site or one that slopes gently toward the south. The original owners have generously agreed to make these plans available to non-fire victims, with the proceeds going toward making all of the designs available. It is 2500 sf including the garage / ADU.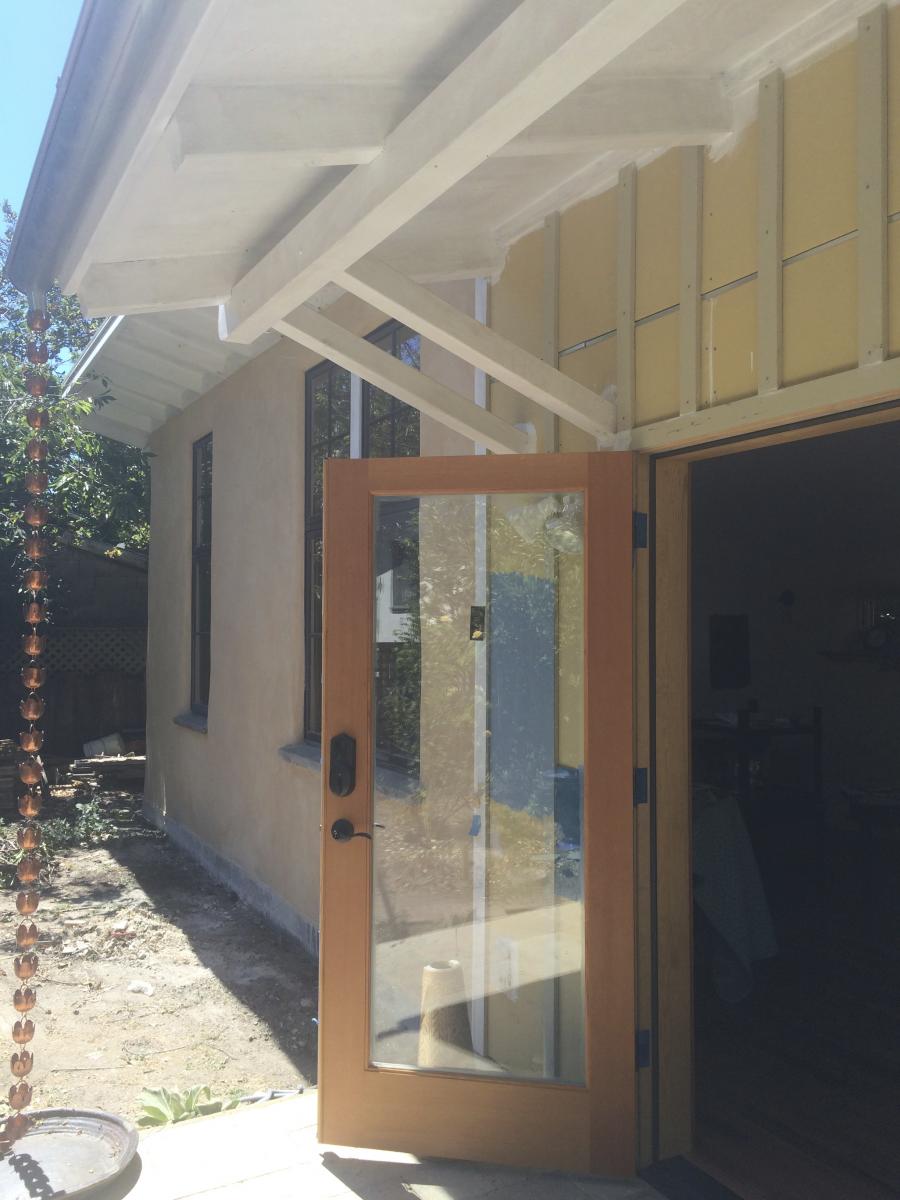 Wee But 'n' Ben - This simple 480 sf dwelling was originally built as a backyard accessory dwelling unit (aka 'in-law cottage') for the owner's 80 year old mother, who had grown up in Scotland where small, two-room cottages are known as a 'Wee But 'n' Ben'. The project features bale walls on three sides, with the fourth wall in wood framing, where all of the plumbing is located. The simple shed roof furthers its economical design. The Wee But 'n' Ben is designed for a flat site, but its relatively small footprint can likely be made to work nearly anywhere.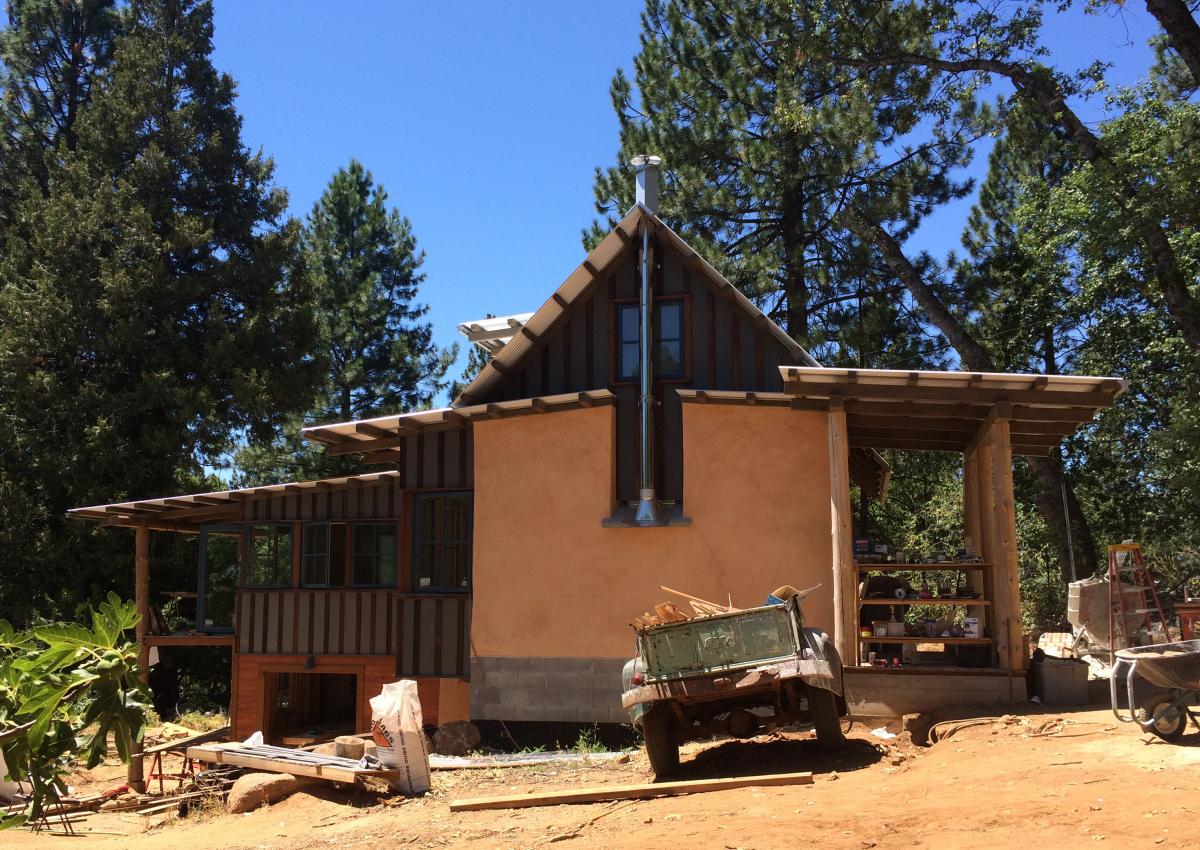 Lost Hill Farm Cottage - This 835 sf home was designed to be built over a 680 sf walk-out basement workshop, but it can easily be built as a single story 1BR, 1BA plus Loft L-shaped home. It's traditional design was shaped to fit its historic Nevada City site, but it will be at home in nearly any setting. The original project is just finishing completion. It sits well on a site that is sloping significantly toward the east and/or south, but as noted will also work as a single story structure on a flattish site.

Hood Mountain Home - This 999sf, 2+BR, 1+BA house was originally build off-grid and adjacent to Hood Mountain Regional Park in Sonoma County. The house features a pair of french doors off of one of the bedrooms that allow the bed to be rolled out under the stars, or rolled inside under the protective cover of two large skylights. This project sits well on a site that slopes gently from the east down to the west, but can be made to fit flatter sites as well.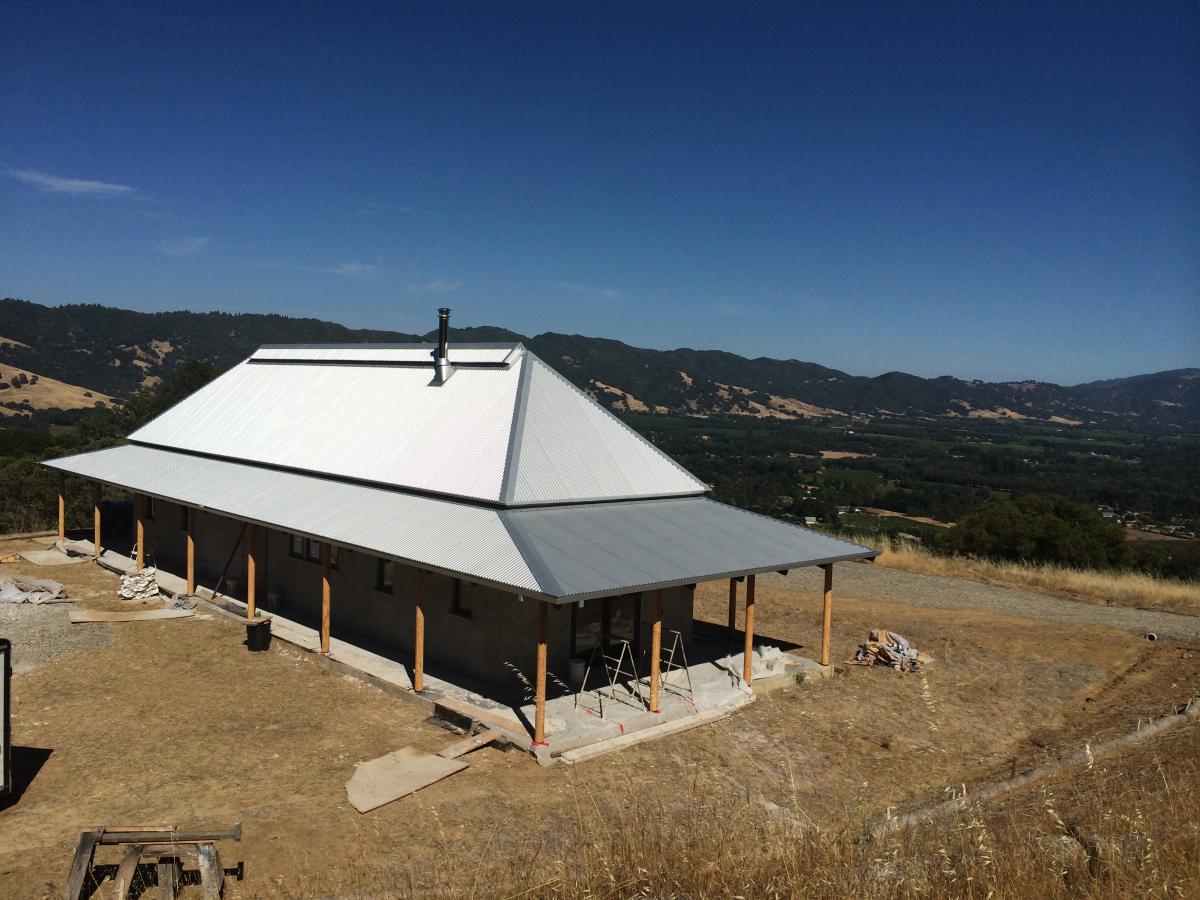 Redwood Valley Residence - With a wrap-around porch that is deep on the east and west ends, and shallow to the north and south, this home is an off-grid performer that stays comfortable all year. it was built on a flat pad on an otherwise sloping site, but retaining walls could be located at the line of the porch columns to make this design fit a variety of sites. It is 841 sf with 2BR and 1BA.

French Lane Straw Bale - This unique home has a decidedly Japanese look and feel to it, with a zen garden featuring a round opening at its entry porch, and an ofuru tub in the master bedroom suite. It is 1494 sf with 1.5BA and 2BR plus and office and a bonus loft space over a tea room adjacent the living room. The design was for a site that slopes toward the southwest and features a garage / studio space below, but could be built on a flattish site without it.