01.23.15
Under Construction
Berkeley Wee But 'n' Ben
We are happy to be nearing the completion of a 432 ft2 backyard straw bale cottage in Berkeley, California. The cottage is tucked away in the backyard of the main home. Straw-bale construction is an attractive choice for a number of reasons: straw, an agricultural by-product of grain harvests, is renewable, available, and cost effective; when bundled, it is an effective fire-retardant, without any need for harmful chemicals; and it also acts as an insulator, keeping the home cool in the summer, and warm in the winter.
While the actual footprint of the cottage is 480 ft2, the 18-inch thick walls take up approximately 10%, so in reality, it is slightly smaller. The city of Berkeley supported our straw bale endeavor by counting only the inner 6 inches of the straw bale walls, allowing us to register the square footage of the building as 432 ft2. Not all building officials are familiar with straw bale technology, but, ultimately we were able to prove the viability of our structural plans and obtain the necessary permits to move on with construction.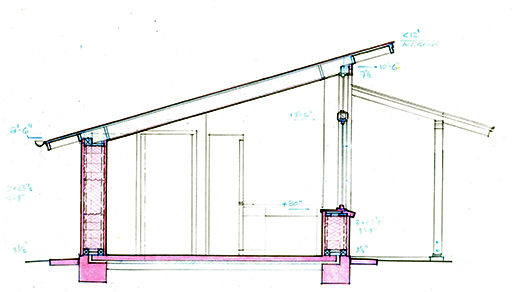 One hurdle we had to address during this project was a City of Berkeley Zoning Requirement stating that an accessory unit be no more than 25% the size of the main house, a rule that has since been revised. In order to make the Wee But 'n Ben big enough to be livable, we added on to the main house, but support from the City of Berkeley was truly essential in the construction of a small, simple, yet comfortable backyard cottage. This rule, as well as residential straw bale building codes will soon be updated, so in the future, straw bale projects will be much easier to permit.
Construction of the cottage was a collaborative effort, and we benefitted from the help of friends during a "bale-raising day", where 3-string rice-straw bales were put in place. Our friends at CASBA (California Strawbuilding Association) held workshops at the construction site, instructing attendees on plaster application and holding work parties to apply additional coats. And, speaking of plaster, this project is the first application of homemade hydraulic lime plaster, which we based on a recipe from the Endeavour Centre in Ontario, Canada.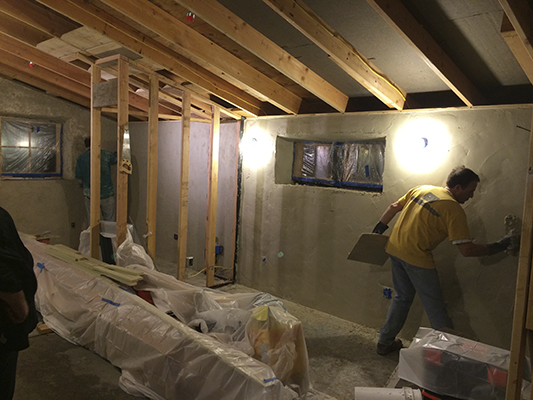 This project modeled a more effective, more affordable straw bale building system, with a simple rectangular footprint that both kept construction costs down, and increased energy efficiency: the design of the But 'n Ben has an energy envelope 44.6% better than a typical building.